IntegriServ Franchise Ranks 4 Years In A Row
In our continuing efforts to remain at the forefront of the franchise opportunities, we've earned many accolades along the way in our climb to the top.
Here are some of our most recent recognitions.
Entrepreneur Magazines Fastest-Growing Franchise 2023
We are honored to be included on the Entrepreneurs Fast Growing Franchise list!
"Our 2023 Fastest-Growing Franchises ranking recognizes the franchise brands with the greatest growth but also highlights the extraordinary momentum in the industry over the past year. After all, growth is what franchising is all about," said Entrepreneur Senior Vice President of Franchising Liane Caruso.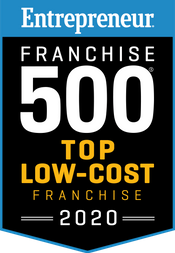 Entrepreneurs Franchise 500® Top Low-Cost 2020
Entrepreneur's editors have seen the value the IntegriServ opportunity offers to entrepreneurs looking to start a business.
We are honored to be included on the Entrepreneurs Franchise 500 Top Low-Cost 2020 list!
Most people turn to Entrepreneur when beginning their research of buying and operating their own business because the editors are extremely diligent in reviewing franchises for effectiveness, longevity, reputation and having a strong ROI. And they know IntegriServ is a good, safe choice.
Entrepreneur Commends IntegriServ Franchise's Low Entry Point
Startup costs are a huge factor in determining who makes the list.
It's the first obstacle many potential franchisees face. Fortunately, IntegriServ has a low cost entry starting at just $950!
In addition to becoming a part of our well known and respected brand, IntegriServ franchisees will only have to focus on providing great service- we have the rest covered!
Our program offers excellent support so that you can be in business for yourself, but not by yourself. We find your customers, so you can focus on what's most important - your service!
To learn more about purchasing a franchise with IntegriServ, click here.
Franchise Financing and Discounts Available
IntegriServ offers a variety of financing options to fit nearly every budget. We also proudly offer discounts to veterans, as we are happy to thank those who have served our nation.
To learn more about our discounts, call us today or click here.
Consider a franchise with IntegriServ in commercial cleaning: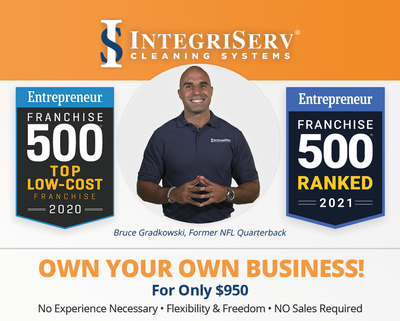 Required service for most businesses

Recession resistant

30+ years of steady growth

Affordable investment with quick return

Home based business

Proven business model

The cleaning industry is over $160B annually

Part time or full time flexible schedule

Starter kit of equipment and chemicals

Training included

Low competition

We find your clients so you can focus on what matters most, your service!
Ready to become your own boss with IntegriServ?