Financial Institutions
Proudly Serving Ohio, Michigan and Florida with America's Best Financial Institution Cleaning.
Many Cleaning Services. One Goal. Your Satisfaction.
Specializing in daily and weekly services of the common areas, entrances, lobbies, hallways, stairwells, elevators, restrooms and office spaces in financial institutions, credit unions and banks.
Bank Cleaning: Leave A Good Impression
Bank customers have high expectations for their financial institutions. After all, this institution is taking care of their money- it makes sense that a customer would have a high standard for where they put it. The expectations of the average bank customer are simple. They expect the place they're trusting with their finances to be kept clean, fresh and safe. Now that in-person services are returning in most spaces, including banks, it's more important than ever to present a sparkling first impression. Is it time to update your bank cleaning services plan?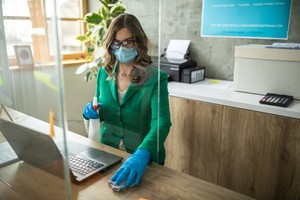 Safely Cleaning and Disinfecting Bank Surfaces
Consistency Counts.
When it comes to where people put their money, trust is key. When hiring a bank cleaning service, you need one who puts both you and your customers first, delivers consistent service, and never misses a day. You need a bank cleaning company that has decades of experience cleaning banks at night, uses the latest disinfection technology, and pays extra attention to high-touch surfaces to keep everyone safe.
IntegriServ is proud to provide bank cleaning services to all types of banks, from financial headquarters and large corporate campuses to small suburban branches. Our dedicated teams receive all of the training, support, and supplies they need to provide the highest-quality bank cleaning services in Ohio and Florida. IntegriServ's commitment to quality and consistency is just one thing that sets us apart from other bank cleaning companies. We never miss a day, instead honoring our commitment to always show up for you and your customers.
IntegriServ offers a wide range of bank cleaning services and the ability to customize your bank cleaning plan to meet your needs. No matter the size of your financial institution or the number of branches you may have, our bank cleaning business offers consistent cleaning services to keep your walk-in traffic happy.
The IntegriServ Bank Cleaning Service Advantage
There's a reason IntegriServ maintains long-lasting partnerships with financial institutions all over Ohio and Florida. Our communication and customer service set us apart from other companies that might advertise cleaning banks near you.
Instead of presenting you with a cookie-cutter solution that may or may not work for you, IntegriServ will work with you to develop a custom bank cleaning plan designed for your institution. Whether you're looking for someone who specializes in cleaning banks at night or you'd rather use our Day Porter services to keep things fresh while customers are in the building, we will work with you to develop the perfect solution for your business.
Our dedicated team is always available via cell phone for any concerns and questions you may have about your bank cleaning plan.
Security Counts.
Security is one reason you might hesitate when hiring a company near you to clean your bank at night. We understand the importance of security and we take it just as seriously as you do. All franchise owners at IntegriServ are thoroughly vetted, as well as completely insured and bonded. We use a secure key fob system to allow authorized staff into your facility. This system maintains secure access at all times and employees are to return the key fobs to security at the end of every shift.
Call For Financial Office Cleaning You Can Count On.
If you're looking for a bank or credit union cleaning service near you, IntegriServ has what you need. With over 20 years of experience and the latest disinfection technology, we are the best choice for all of your bank cleaning needs.
Call IntegriServ today, for a free bank cleaning quote! We will work with you to develop a custom plan designed for your space and your budget.
Day Porter Services
Supplementing your night cleaning with selected services during operating hours helps to maintain your facility at a high level. We can staff a day porter in your facility to provide restroom and break room cleaning at peak times to ensure a facility that's clean and orderly.
Hard Floor Care
It takes know-how and experience to strip and finish a floor, or to burnish, or to top scrub and recoat. We can review your floors and, based on your needs, recommend the proper floor care service.
Carpet Cleaning
Think of all the footsteps on your carpet each day. What a beating your carpet takes with heavy traffic, spills, salt, rain, and all the other messes that help make them appear dirty and tired. Professionally cleaning your carpet doesn't just make them look better, it actually lengthens the life of your carpets by removing the dirt and grit from the fibers, keeping them looking beautiful for their lifetime.
Window Cleaning
Exterior window cleaning can improve the overall appearance of your building which ensures a great impression to customers, employees, and all visitors. This work can be done on an annual schedule or on a one-time basis. Routine interior window cleaning will remove smudges, streaks, and residue. This can include not just windows but interior glass in partitions, glass doors and walls.
IntegriServ is using advanced technology to effectively and efficiently clean even the most hard-to-reach surfaces with electrostatic disinfecting fogging. Electrostatic disinfection fogging is the most effective way to kill any viruses (including COVID-19).
Our trained professional cleaning team will disinfect all surfaces using a rapid, uniform application of fast-acting chemicals to allow for exceptional coverage in a fraction of the time - using chemicals that boast kill times up to 10 times faster than competitive products.
Special Event Cleaning
Hosting an open house to celebrate a new facility? Or maybe it's a fabulous holiday party? When all the celebrating is done, you can rely on IntegriServ Cleaning to take care of the necessary extra cleaning. Food and drink can get spilled on tables, and floors. Overflowing trash receptacles will be emptied and cleaned. Your facility will be cleaned and ready for business as usual the next day.
Contact IntegriServ today for a custom cleaning plan to keep your financial institution looking great!
Examples of Financial Institutions we commercially clean:
Financial Institutions
Investment Companies
Credit Unions
Saving and Loan Associations
Retail Banks
Commercial Banks
Mortgage Companies