OWN YOUR OWN BUSINESS
If you've ever dreamed of owning your own business, it's easy and absolutely affordable with IntegriServ!
Becoming a franchise partner with IntegriServ is an avenue to financial freedom and a gateway to the business world. Trust our experience and support to help you grow a sustainable and profitable commercial cleaning franchise!
What's the advantage of signing up for a low-cost cleaning franchise opportunity with IntegriServ?
STELLAR REPUTATION
IntegriServ is already well-reviewed by clients across several states, so you'll have the best start to your franchising journey.
YEARS OF EXPERIENCE
Our story started in a garage with a bucket and a mop and has grown into a top cleaning franchise with hard work, good people, and years of experience. Come pave the way with us!
NO CHASING CLIENTS
One of the most frustrating things about owning a business is having to go out and find clients constantly. IntegriServ brings customers to you and handles accounting and billing, so you can focus on service.
SUPPORT THROUGH THE LEARNING CURVE
Starting your own franchise is a big deal! Many new franchise owners are intimidated at the beginning of their journey, which is why IntegriServ offers a dedicated franchise support person to answer questions and troubleshoot problems with you.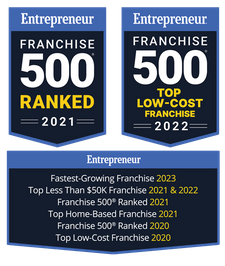 Be a part of a Nationally Recognized Company
IntegriServ is a top ranking, nationally recognized franchise cleaning business. Entrepreneur Magazine recognized IntegriServ for these awards in their Franchise 500 list.
• Entrepreneurs Franchise 500® Top Ranked
• Entrepreneurs Franchise 500® Top Low-Cost
Freedom and Flexibility
Signing up with IntegriServ gives you the freedom to decide.
Work part-time or full-time, scale your commercial cleaning franchise business to your needs, and call the shots.
Support
IntegriServ program offers excellent support every step of the way - like handling the invoicing / billing and sales (we find you customers), customer service and training. You can focus on what's most important - your service!
Be in business FOR yourself, but not BY yourself.
What Our Franchise Owners Are Saying?
Frequently Asked Questions
How Much Does It Cost to Own an IntegriServ Cleaning Systems Franchise?
We pride ourselves on making franchise ownership as accessible as possible. Our most popular plan begins at $3,000 down, including a starter kit containing everything you need to service any account. With over 20 different business plans with down payments ranging from $950 to $44,000, there's sure to be a plan that fits your budget and what you want out of your business. Start your commercial cleaning franchise under $1,000 essentially!
How Much Revenue Can I Make Each Month?
Our packages are built to continue to grow as you choose, with income determined by the package you select. You can start small with 1 or 2 accounts and grow from there or keep your cleaning franchise as a part-time side hustle. Our smallest package generally makes about $425 per month, but your income is entirely up to you.
What Experience Do I Need to Run an IntegriServ Franchise?
None! We provide all the training you need, including the basics of cleaning and running your business. There is even a member of our team whose sole job is to provide support to our franchise partners, giving you an easy point of contact for any and all questions.
Get Started!
We'd love to have a conversation with you! Complete the form below and we will contact you!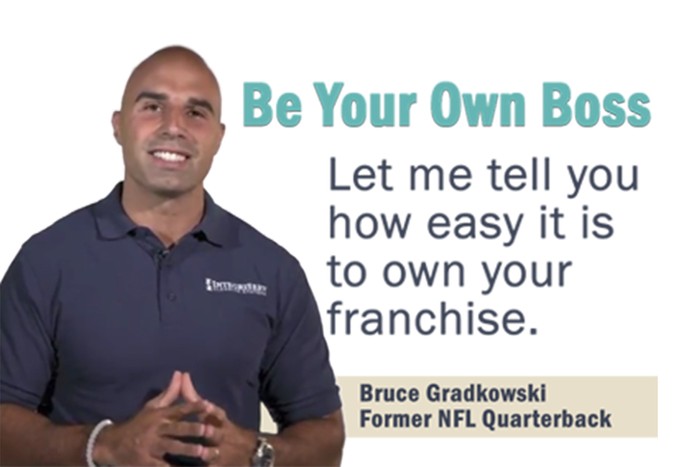 Invest in yourself now, enjoy the returns later
Looking to team up with IntegriServ and become a commercial cleaning franchise owner? You call the shots. With your own franchise business, you'll have the opportunity to be your own boss and have a flexible schedule. Commercial Cleaning is a high-demand service. This industry is always growing and is expected to be worth almost half a trillion dollars in the not-so-distant future. You have many options. You can choose from a variety of services to offer, so you can tailor your business to your interests and abilities.
Visit our Franchise page to learn more about how you can be your own boss with IntegriServ.