OWN YOUR OWN BUSINESS
If you've ever dreamed of owning your own business, it's easy and absolutely affordable with IntegriServ!
Becoming a franchise partner with IntegriServ is an avenue to financial freedom and a gateway to the business world. Trust our experience and support to help you grow a sustainable and profitable commercial cleaning franchise!
Why Start Your Franchise Cleaning Business with IntegriServ Cleaning Systems?
Over 30 years of steady growth and survival through recessions have made the cleaning industry worth $160 billion+ annually.

No matter the industry, every business must stay clean.

Running your own business as an IntegriServ franchise partner allows you to form a flexible schedule, either part-time or full-time- whatever works best for you!

Competition in the commercial cleaning franchise space is low.

Our business model is tried-and-true.

All of the training you need is included with the low startup fee.

We provide the equipment and chemicals you need to hit the ground running (or cleaning).

Our startup costs are affordable and most new franchise owners see a quick return.

You don't have to go out and find your clients. IntegriServ brings the leads to you.

We are proud to offer unlimited growth potential. The sky's the limit!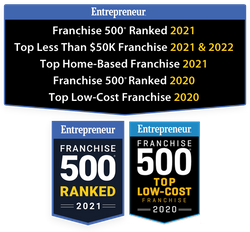 Top Ranking, Nationally Recognized Franchise Cleaning Business!
Entrepreneur Magazine has recognized IntegriServ for two separate awards in their Franchise 500 list. Thank You, Entrepreneur Magazine!
Entrepreneurs Franchise 500® Top Ranked
Entrepreneurs Franchise 500® Top Low-Cost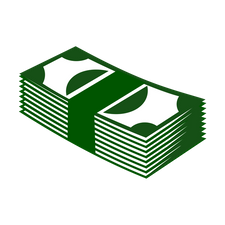 Freedom and Flexibility
Signing up with IntegriServ gives you the freedom to decide. Work part-time or full-time, scale your commercial cleaning franchise business to your needs, and call the shots.

Support
IntegriServ program offers excellent support every step of the way - like handling the invoicing / billing and sales (we find you customers), customer service and training. You can focus on what's most important - your service!
Be in business FOR yourself, but not BY yourself.
Frequently Asked Questions
How Much Does It Cost to Own an IntegriServ Cleaning Systems Franchise?
We pride ourselves on making franchise ownership as accessible as possible. Our most popular plan begins at $3,000 down, including a starter kit containing everything you need to service any account. With over 20 different business plans with down payments ranging from $950 to $44,000, there's sure to be a plan that fits your budget and what you want out of your business.
How Much Revenue Can I Make Each Month?
Our packages are built to continue to grow as you choose, with income determined by the package you select. You can start small with 1 or 2 accounts and grow from there or keep your cleaning franchise as a part-time side hustle. Our smallest package generally makes about $425 per month, but your income is entirely up to you.
What Experience Do I Need to Run an IntegriServ Franchise?
None! We provide all the training you need, including the basics of cleaning and running your business. There is even a member of our team whose sole job is to provide support to our franchise partners, giving you an easy point of contact for any and all questions.
Where Can I Start An IntegriServ Franchise?
IntegriServ is currently seeking franchise partners in Ohio, Michigan, Florida, and Indiana. We are always growing! Reach out to see if we offer cleaning franchises for sale near you.
Get Started!
Have Questions? Let us know.