Educational Facilities
Proudly Serving Ohio, Michigan and Florida with America's Best Educational Facility Cleaning Services
Many Cleaning Services. One Goal. Your Satisfaction.
Specializing in daily and weekly services of the common areas, entrances, lobbies, waiting rooms, hallways, stairwells, elevators, restrooms, break rooms, and office spaces in Educational Facilities.
        Commercial Cleaning Services For Schools
Education is one of the most important parts of a child's upbringing, but educational facilities are infamous for high rates of illness and infections. Children tend to carry quite a few germs at any given time, making it very easy for them to get sick and spread illnesses to other people. Keeping students safe is one of the most important responsibilities of an educational facility, and that includes protecting the health of students and staff. School cleaning companies play a vital role in reducing illness and infection in educational facilities.
Contact us today and let us create a specific and tailored approach to keep you, your staff and students healthy and motivated.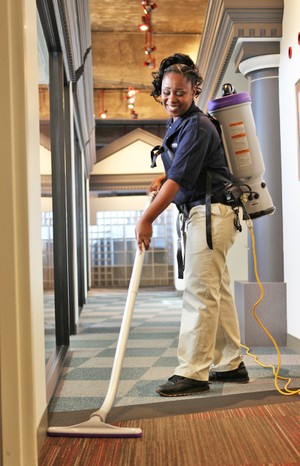 Commercial Building Cleaning Services
Why Choose integriServ's Commercial Cleaning Service?
IntegriServ has been providing cleaning services for schools for over 20 years. IntegriServ franchisees receive specialized training from experienced leaders in the commercial cleaning industry before heading out to serve the schools, churches, and businesses of Ohio, Michigan, and Florida.
IntegriServ offers a wide variety of school janitorial services to assist you and your staff in maintaining a clean and safe educational environment for students, teachers, and administration. We use a method known as electrostatic disinfection fogging to ensure that no surface goes un-cleaned. We offer school commercial cleaning services along with specialized school cleaning services to care for your hard floors, windows and carpet.
Contact us today and let us create a specific and tailored approach to keep you and your staff and students healthy and motivated.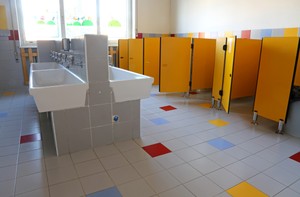 Sanitary Educational Facility Bathroom
High-Traffic Areas In Educational Facilities
Areas traversed by lots of people are known as high-traffic areas and they can contain more bacteria than you might think, especially on high-touch surfaces. Here are a few school cleaning services that your educational facility may benefit from:
Classroom cleaning and sanitizing
Nurse's office disinfection services
After-hours school janitorial services
Day porters
School gymnasium cleaning and disinfection
Public and private school commercial cleaning
If you are looking for a school cleaning company that puts you and your students and staff first, look no further than IntegriServ!
Contact us today for a consultation to discuss your cleaning needs and budget!
Day Porter Services
Supplementing your night cleaning with selected services during operating hours helps to maintain your facility at a high level. We can staff a day porter in your facility to provide restroom and break room cleaning at peak times to ensure a facility that's clean and orderly.
Hard Floor Care
It takes know-how and experience to strip and finish a floor, or to burnish, or to top scrub and recoat. We can review your floors and, based on your needs, recommend the proper floor care service.
Carpet Cleaning
Think of all the footsteps on your carpet each day. What a beating your carpet takes with heavy traffic, spills, salt, rain, and all the other messes that help make them appear dirty and tired. Professionally cleaning your carpet doesn't just make them look better, it actually lengthens the life of your carpets by removing the dirt and grit from the fibers, keeping them looking beautiful for their lifetime.
Window Cleaning
Exterior window cleaning can improve the overall appearance of your building which ensures a great impression to customers, employees, and all visitors. This work can be done on an annual schedule or on a one-time basis. Routine interior window cleaning will remove smudges, streaks, and residue. This can include not just windows but interior glass in partitions, glass doors and walls.
IntegriServ is using advanced technology to effectively and efficiently clean even the most hard-to-reach surfaces with electrostatic disinfecting fogging. Electrostatic disinfection fogging is the most effective way to kill any viruses (including COVID-19).
Our trained professional cleaning team will disinfect all surfaces using a rapid, uniform application of fast-acting chemicals to allow for exceptional coverage in a fraction of the time - using chemicals that boast kill times up to 10 times faster than competitive products.
Special Event Cleaning
Hosting an open house to celebrate a new facility? Or maybe it's a fabulous holiday party? When all the celebrating is done, you can rely on IntegriServ Cleaning to take care of the necessary extra cleaning. Food and drink can get spilled on tables, and floors. Overflowing trash receptacles will be emptied and cleaned. Your facility will be cleaned and ready for business as usual the next day.
Examples of Educational Buildings we commercially clean:
College Buildings
Technical Institutes
University Buildings
Lecture Halls
Classroom
Common Spaces
General Classrooms
Administrative Offices
Interior Foyers
Lobbies
Department Offices
Dining Halls
Student Centers
Campus Buildings
…and more!