Are You Looking For a Low Cost Cleaning Franchise?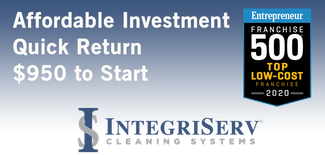 Many Americans dream of starting their own business, and a low cost profitable franchise is a great starting place. Instead of investing tens of thousands of dollars for your new franchise, why not invest in a cleaning franchise under $1,000?
Cleaning is a lucrative line of business and cleaning franchise owners often see excellent returns on their investments. For those who want to start a cleaning business but want guidance and are on a budget, a low cost franchise opportunity may be the perfect way to go.
Benefits of Buying a Low Cost Cleaning Franchise
Consistent demand even during economic slumps. Much like foodservice, a cleaning company provides a service that people need no matter what the state of the economy may be.

A solid start. Franchisees are provided with all of the training and materials that they need to make their franchise a success.

Help and support. The most successful low cost franchises often have someone they can reach out to at their franchisor's office for help and support when problems or questions come up.
Given that the average cost of starting a franchise is between $20-30k, the idea of finding a cleaning franchise under $1,000 might sound impossible. Getting started with IntegiServ, however, requires an investment of just $950. IntegriServ has received multiple awards from Entrepreneur Magazine and stands out as a Top Low Cost Franchise opportunity.
How to Choose the Best Low Cost Cleaning Company Franchise
When you decide to buy a low cost cleaning franchise, it's important to know how to choose the right one. Franchise scams are all too common, but knowing what to look for can help you avoid them.
1. Support
Be sure to look for low cost franchising opportunities that offer adequate support to their franchisees. Especially if it's your first time running a cleaning franchise, it's important to have help and advice in order to make your new franchise successful.
2. Read Agreement Carefully
You will also need to read your Franchise Disclosure Statement carefully. The Franchise Disclosure Statement advises people purchasing a low cost franchise on the risks and benefits of opening a franchise. The purchaser then has 14 days to think it over before signing the final purchase agreement.
3. Consistent and Stable Company
Cleaning companies can be excellent low cost franchise opportunities for veterans, parents, and others who are excited about running a business. Look for a franchising opportunity in a niche that offers consistent demand and promising profit margins, such as office and facility cleaning.
Start Your Journey With IntegriServ!
With an entry cost of $950 and all the support you'll need, IntegriServ is the perfect low cost cleaning company opportunity for those looking to purchase their own franchise! We provide all of the training, supplies, and leads you'll need for success. Contact us today to learn more about opening an IntegriServ cleaning company franchise in Ohio, Indiana, Michigan, or Florida.
IntegriServ Be Your Own Boss
Own your own Home-Based Commercial Cleaning Franchise Now!