Commercial Janitorial Company to Keep Your Business Clean
When you need janitorial services in Ohio and Florida.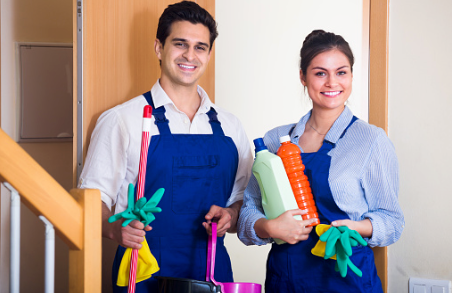 When you run a business, you know that a clean, fresh appearance can help retain and even increase the number of customers you serve. It doesn't matter if you have a large or small business or are in a big city or small town. Whatever you need, our office janitorial services can help.
But when you're trying to choose between janitorial cleaning companies, how do you know which one to pick? We offer professional cleaning by skilled janitors and other cleaning professionals. Cleaning is our business, and we want to make sure our customers are satisfied with our work.
We are a janitorial cleaning company that puts your cleaning needs first. We have expertise, professionalism, and accountability. We deliver the results you'd expect from a professional janitor services company with standards that are above and beyond.
We offer quality at reasonable janitorial services prices.
Our offerings:
We're available when you need us and will work around your schedule
We offer comprehensive office janitorial services, from floor and carpet cleaning to upholstery cleaning and more.
We offer project-based commercial janitorial services, in which you can benefit from a one-time appointment if that's all you need.
We serve a multitude of industries, including healthcare, education, government, hospitality, and manufacturing
Additionally, we offer a full-service range of industrial janitorial services, from commercial cleaning to office cleaning, including floor cleaning and waxing. We can also do building maintenance and window cleaning.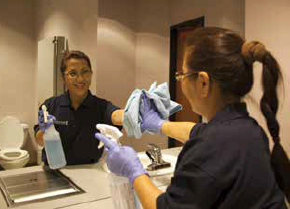 When you want your facility cleaned on a regular basis, we are the commercial janitorial cleaning company that will meet your needs and exceed your expectations. We pay crucial attention to detail to make sure all our cleaning & janitorial services are to your satisfaction. We are a commercial janitorial cleaning company that makes your satisfaction our priority. Specific office janitorial services we offer include dusting/wiping, vacuuming/mopping, thorough restroom cleaning, and other janitorial cleaning services such as trash removal. It doesn't matter how often you need industrial janitorial services, whether it's on a nightly basis, weekly, or other, we are here to serve your commercial janitorial needs.
If you need a janitorial cleaning business with a detailed cleaning plan and quality review program, contact us today. We look forward to meeting you and providing you with our quality office cleaning services.