The Pros and Cons of Franchising: Is it Right for You?
Starting a new business is not a decision you make overnight. Weighing the pros and cons of entrepreneurship is an endeavor that you will research exhaustively and have countless conversations and questions about. One appealing option that you may consider during your research is franchise ownership.
For many would-be entrepreneurs, franchising is an interesting opportunity as it offers the chance to be your own boss without taking on the significant risk that comes with starting a business from scratch. Franchising offers several advantages for would be business owners, but like anything, there are also some disadvantages that you should be aware of before embarking on a franchise purchase.
Although purchasing a franchise can at times be cheaper than starting a business from scratch, it still requires a significant monetary investment, which is why it is vital that you enter into your franchise purchase well-informed. Read up, talk to friends and family, make lists, speak with business owners and franchise owners, but -- most importantly -- know that this is not a decision to make impulsively; be true to your instinct and what will be right for you, your goals and your mindset.
To assist you in your research process, Franchise Business Review has compiled a list that outlines the pros and cons of franchising. But, to start with, let's clarify what exactly a franchise is.
A franchise (n) is a legal and commercial relationship between the owner of a company (the franchisor) and an individual (the franchisee) who is starting a branch of that business using the business' trademark logos and business model. The franchisee sells the product or service that the franchisor supplies. As of 2018, the franchise industry employs 21 million people and generates $2.3 trillion of economic activity, according to a U.S. government report.
Pros and Cons
Franchises have the support of big corporations with a business model that has already been proven effective Pre-determined branding limits creative opportunities to alter or make additions to the franchise
Franchise business loans are easier to get than loans to start an independent business Monthly royalty fees, which most franchises charge and are typically about 4 percent - 6 percent of sales, reduce your profit potential
Franchises already have a recognizable brand and a loyal customer base, making it easier to recruit top-tier employees Blunders of other franchisees can damage your franchise's reputation
Low supplies costs Restrictions on where you can operate, the products you can sell, and the suppliers you can use
Some franchisors offer loans and other forms of assistance to franchisees Expensive initial investment for big name franchises
You are your own boss Once your contract has reached its end, franchisors have the power not to renew it
Franchises offer pre-opening assistance like site selection, design, construction, financing, training, and a grand-opening program Franchisees must share their company's financial information with their franchisors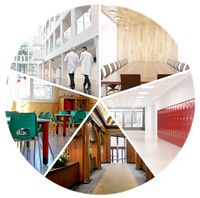 Lower risk (relatively)
Explore a new industry where you don't necessarily have previous work experience
Receive knowledge, experience, and industry secrets from seasoned industry leaders
Research is Key!
To find out if franchising is right for you (or which franchise is for you!), make sure you do your research. Franchise Business Review has compiled a list of franchises that offer the best franchisee satisfaction for your perusal. You can also talk to other franchisees in the industry you're looking at to hear their experiences and investigate the level of support their franchisor offers. Or, if the number of franchise opportunities is overwhelming you may want to consider hiring a franchise consultant, who can help guide you and offer insight and advice you may have been unaware of.
Once you've chosen a franchise that is a perfect fit for you, hire a franchise attorney to assist you in understanding your franchise contract. Make sure, too, that you've done adequate research on how you'll finance your franchise.
As you explore your options, Franchise Business Review is here to assist with educational content and unbiased market research that can save you time and effort as you research franchise brand options and venture into the exciting world of entrepreneurship!
Learn how IntegriServ works and helps people become business owners