Youngstown Office
Professional Commercial Cleaning Services in Youngstown, Ohio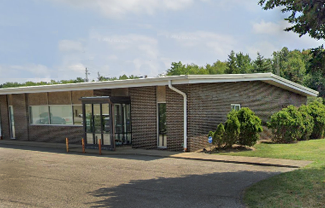 Youngstown, Ohio
7336 North Lane
Oakwood, OH 44146

Serving
Warren, Niles, Lordstown, Niles, Girard, Austintown, Canfield, Boardman, Poland, Struthers, Lowellville, Hubbard, Newton Falls, Youngstown and the surrounding communities.
Looking for Commercial Cleaning Services Near You? We Offer:
Restrooms Sanitation
Break / Common Areas
Board / Conference Rooms
Lobbies
Window Washing
Odor Control
Hard Wood Floor Care
Carpet Cleaning
Waxing
Buffing
Day Porter Services
Professional Commercial Cleaning In Youngstown, Ohio
Youngstown, Ohio sits in the Mahoning River Valley and is filled with hardworking people who care about their homes, their businesses, and their community. IntegriServ is proud to serve the Youngstown area.
We don't believe in one-size-fits-all cleaning plans. Why should different spaces be cleaned in the same way? We take all the specifics of your space, including square footage and type of facility, into account when creating your custom cleaning plan. We understand that each client will have different needs depending on their industry and environment- for example, a medical office would require professional sterilization, as opposed to a marketing office, which might simply need window cleaning and vacuuming. When you contact IntegriServ, we'll help you build the plan that you need- no more, no less.
Professional Cleaning For Youngstown Facilities & Campuses
IntegriServ provides professional janitorial services for many different types of facilities & campuses in the Youngstown area. Whether you're running a business with a storefront and greeting customers every day or welcoming employees/clients into an office, your business and reputation will benefit from hiring commercial cleaners in Youngstown. Here are some of the businesses, facility, and campuses we serve:
These are just some of the types of companies in Youngstown who benefit from IntegriServ's commercial cleaning services. If you can name it, we can clean it.
Here at IntegriServ, we go above and beyond the average Mahoning County cleaning company. We ensure that our clients receive only the highest-quality commercial cleaning, and every cleaning job is checked by managers to maintain a high standard.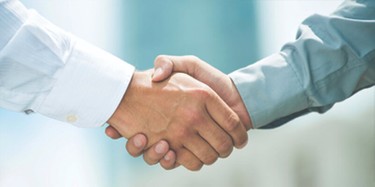 You Are A Handshake Away From A Professionally Cleaned Facility!
Why Choose IntegriServ As Your Youngstown Commercial Cleaning Company?
Ohio pride runs deep, and IntegriServ is no exception. We are proud to be one of Ohio's top professional commercial cleaning services, and we are excited to serve you!
Thorough and efficient work is an expectation here. We pride ourselves on never missing a day, making us one of the most reliable commercial cleaning companies in Youngstown, Ohio. Clear and consistent communication is more than a value to us- it's a requirement. If any problems with your janitorial services arise, you can count on us to handle them quickly and efficiently.
Your time is valuable- don't waste hours searching "best commercial cleaning company near me." IntegriServ is conveniently located in Youngstown and serves several cities throughout Trumbull County and Mahoning County. Whichever Northeast Ohio county you're in, you can count on us.
Budgeting for commercial janitorial services can be difficult, but IntegriServ takes the headache out of it. Visit our website today to get a quote for a custom professional cleaning plan.
These days, staying safe and keeping spaces free of germs is at the forefront of everyone's mind. Commercial disinfection services are a great way to keep germs and bacteria out of your facility! We use the latest commercial cleaning technology to make sure that your facility is as clean and sanitary as it can possibly be.
IntegriServ won't be stopped by a hard-to-reach area. Our Akron cleaning team uses advanced technology to effectively and efficiently clean every surface, even the ones that are hard to reach, via a process called electrostatic disinfection fogging. It allows for a rapid, uniform application of hospital-grade disinfectant delivered in a fine mist. The chemicals we use kill germs, viruses (including COVID-19) up to 10 times faster than competing products. Even better, this process is safe to use in offices and around electronic equipment. The mist is so fine that it dries completely within 10 minutes, meaning that there is very little risk of damage.
Searching for cost-effective commercial cleaning services near you may sound overwhelming, but IntegriServ makes it simple. We are located throughout the Mahoning Valley.
Contact us today for all of your Youngstown cleaning company needs!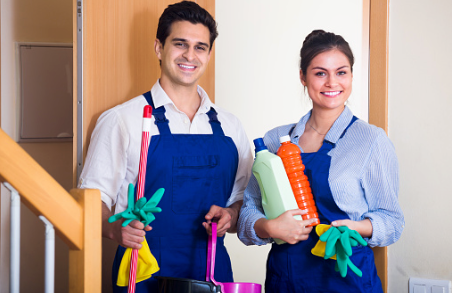 We appeal to customers that place a value on the appearance of their facilities and the quality of their relationships. Learn More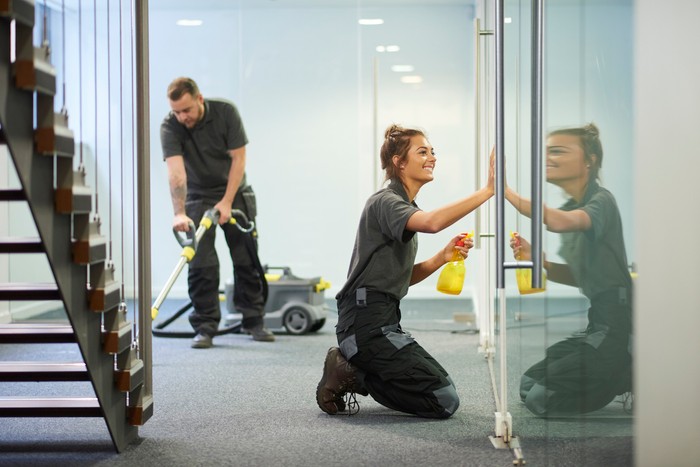 IntegriServ is headquartered in Toledo, Ohio. We are cleaning in Mahoning County. See Service Areas
More Northeast Ohio Areas We Serve:
Mahoning County
Columbiana County
Portage County
Stark County
Trumbull County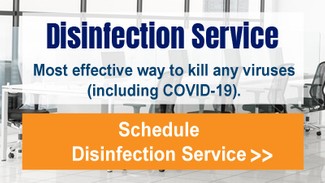 Electrostatic Commercial Disinfection Service in Youngstown, Ohio
Our clean team is using advanced technology to effectively and efficiently clean even the most hard-to-reach surfaces with electrostatic disinfecting fogging.
Electrostatic disinfection fogging is the most effective way to kill any viruses (including COVID-19).
Our trained professional cleaning team will disinfect all surfaces using a rapid, uniform application of fast-acting chemicals to allow for exceptional coverage in a fraction of the time - using chemicals that boast kill times up to 10 times faster than competitive products.
Please fill out the form below for a Cleaning Services Price Quote
A commercial cleaning company recognizes that the most common way for germs to spread in the workplace is through the touching of contaminated surfaces. These surfaces are usually "hot spots" like door and faucet handles, telephones, light switches, etc. Commercial office cleaning services create a clean workplace by thoroughly disinfecting.
When you run a business, you know that a clean, fresh appearance can help retain and even increase the number of customers you serve. It doesn't matter if you have a large or small business or are in a big city or small town. Whatever you need, our office janitorial services can help.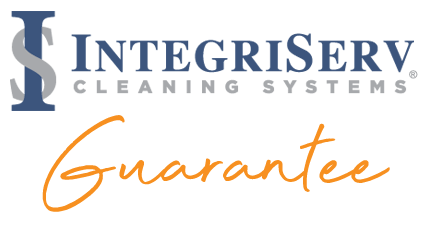 We're committed to providing exceptional customer service.
We routinely ask our customers for feedback, below is what they are saying.
"... does a great job... even with the construction. Only complaint: they keep this place cleaner than I do my own house!"
"This has been the best service in 14 years that I have seen in the two locations I've been at."
"Everything is great. I noticed a SDS for a cleaning product. That's right in line with our own Hazcom program... fabulous work as usual!"
"You guys are really great! Not a suggestion, just a fact."